Celebrating the devotion and marriage to your spouse is such a special event that you want to do it the right way. Every detail needs to share the same joy that you share with the love of your life. For instance, if you met your spouse at the park then why not go back to that same park and throw your wedding anniversary celebration there. There are so many simple, creative, and engaging ideas you could bring to life. Focus closely on the seating arrangements, decorations, food or beverages being served, photography, and games if you would like to play some. Below are more ideas that you can focus on when planning a wedding in the park. Almost all of these ideas are extremely affordable and versatile with color schemes.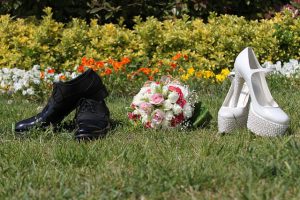 The seating arrangement for your event depends on the venue and if you are renewing your vows. When renewing your vows make sure to find a park that has a pavilion or gazebo. A cute idea to cut down on costs is having the guests sit on blankets in the yard which gives it a picnic type feeling. You could also use bales of hay with blankets to create a rustic feeling. There is always the choice of renting chairs or just using the picnic tables that are already at the park. All of these ideas could also be used if you are serving food at your wedding. The decorations for these tables just depend on the style you are going for!
When decorating the park, you would want to use the natural beauty that is already around. You are outside so the time of year can make a difference on the color scheme. If you are celebrating in the spring, you could look at more pastels but if you are celebrating in the fall then you want to go more towards oranges and yellows. Simple flowers would be ideal for the table decorations in pails, buckets, or mason jars. You could get tablecloths to cover the tables provided for you or if they are wooden tables you could just purchase a table runner to tie in the colors. Creating or buying wooden signs would also be a great décor piece as well. These can be catered to the quotes or sayings that mean something to you and your spouse. The decoration ides are endless depending on the park layout.
Of course everyone would like to enjoy a meal or at least some cake! Make sure you set up two tables to serve the food and purchase dishes and utensils for the event. If you are going for a more rustic theme, you could use a park grill to cook hot dogs, hamburgers, ribs, and have a bbq themed meal with beans, macaroni, and chips. Another idea would be having a potluck style where everyone brings an item to the event. If you want to stick with the picnic theme you could provide sandwiches, vegetable trays, fruit, and more food that needs less maintenance. There is always the choice of having someone cater the food in as well which is more expensive but take less worry off of your plate.
Make sure to take lots of pictures! This is an event you have put so much time and effort into so make sure to get quality, memorable pictures. Either hire someone to take pictures, invite a friend to take pictures, or let everyone take their own and upload them online. There are multiple sites that allow all attendees to upload pictures taken to the website. This truly just depends on the amount of money you would like to put towards the event and the type of quality you would want the pictures to be. I suggest researching all ideas to find the best fit for you.
Last but not least, if you would like to have games then set up a few awesome games! You could set up horseshoes for guests and let them compete against other couples. You could create tic-tac-toe out of foam, wood, or frisbees. Giant Jenga is a huge hit which can be bought at multiple stores. There is also corn hole, ladder golf, grass twister, yard yahtzee, ring toss, or even have field day events to win prizes. If you are looking for some fun that brings your guests' personalities out then I do suggest playing some fun games. This creates a family reunion type of environment and gets your guests mingling.
No matter what you decide, just remember to have fun! This is a special event for you to enjoy your marriage and the love in your life. Share it with your friends, family, and the ones you love most. This can be a free, cheap, affordable, or expensive event depending on what you are looking for.